My boyfriend takes most of the photos of me on Instagram but he often complains that I don't post the photos that he likes.
So I decided to let him choose 6 days worth of photos for me to post on my Instagram and see how well the post do. One thing to note is that I wrote the captions for all the posts and they were either cheesy quotes or something decribing the picture.
To be honest, I was a bit worried. My boyfriend doesn't use Instagram very much and I was terrified that he would pick all the photos where he made he do weird poses.
Continuing reading to see what photos he picked and how well they did!
Photo 1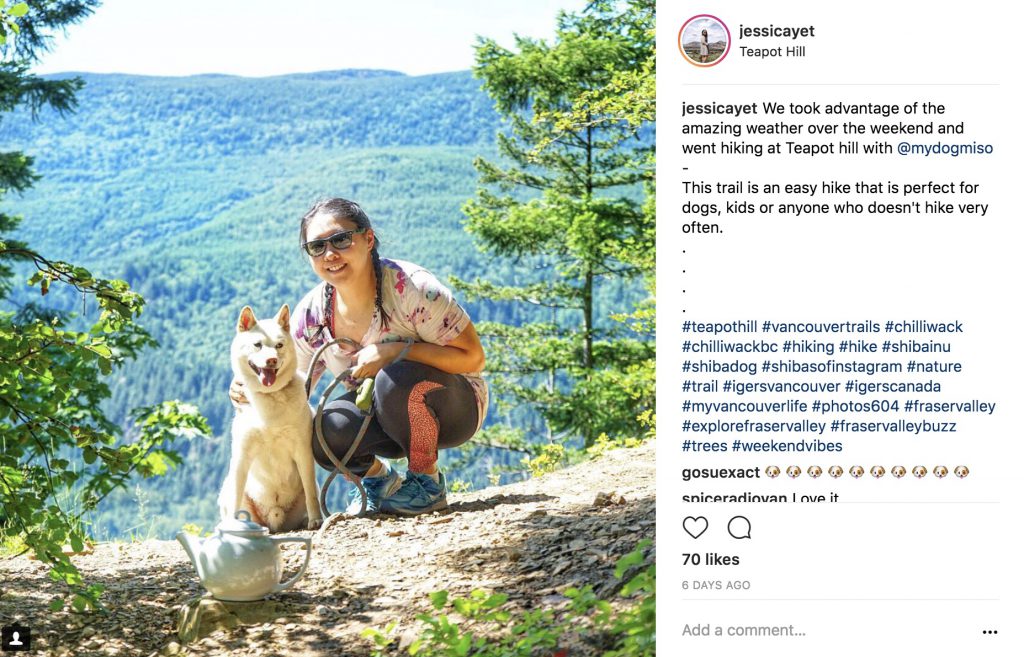 On day 1, he chose a picture he took during our hike at Teapot Hill over the weekend. I actually really like this photo and I would have posted it even if he didn't chose it.
Why he chose it: he wanted to post a picture of our hike asap and he said this was his favourite photo from the hike because I am smiling with teeth and because Miso is somewhat looking at the camera.
Photo 2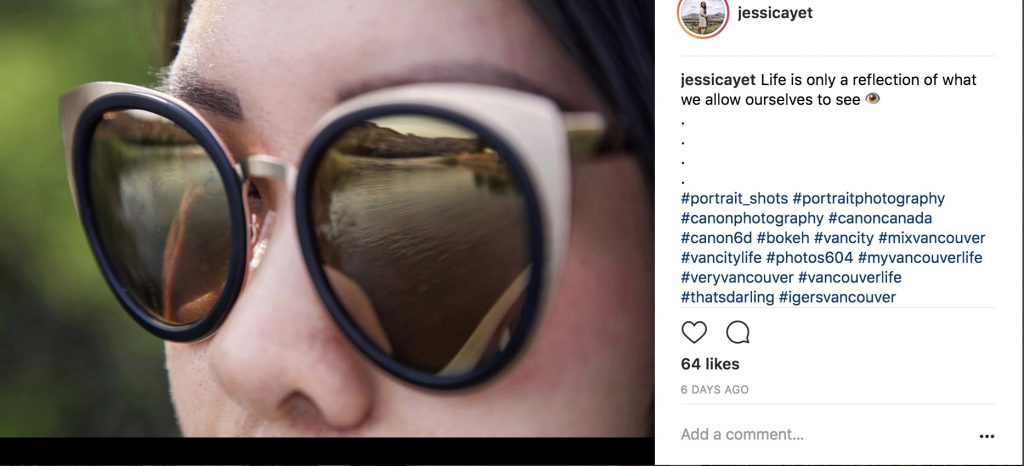 On day 2, he chose a close-up shot he took of me. Considering that I don't have a macro lens, this shot turned out okay.
Why he chose it: he thinks it looks amazing and he chose it because he took it. He also thinks that the picture is artistic and it brings out the deep golds of the Kamloops wilderness–such beauty reflected in the overflowing waters of the majestic Thompson River.
Photo 3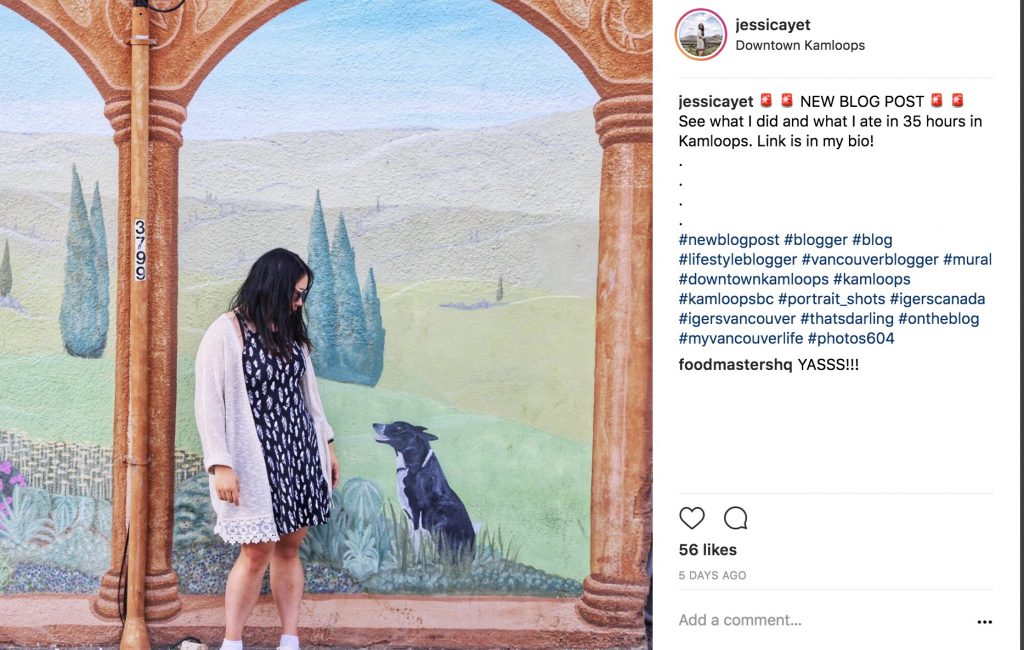 On day 3, I was really hoping he would chose a photo of me in Kamloops because I was going to promote my new blog post that day. Luckily for me, he did!
Why he chose it: he likes how the picture is very colourful and how it contrasts the alley. He also thinks that I should get a dog like the one in the mural.
Photo 4
On day 4, he chose a picture of me by the Thompson River. I thought the picture was a bit redundant because I already posted a picture by the Thompson River wearing the same outfit.
Why he chose it: he wanted to showcase the flooded Thompson River and he likes how I am slightly smirking in the photo and how he can see my boobs contrasting the water. He also thinks this is a nice photograph taken by him; it has tall grass in the foreground and a nice background of Kamloops.
Photo 5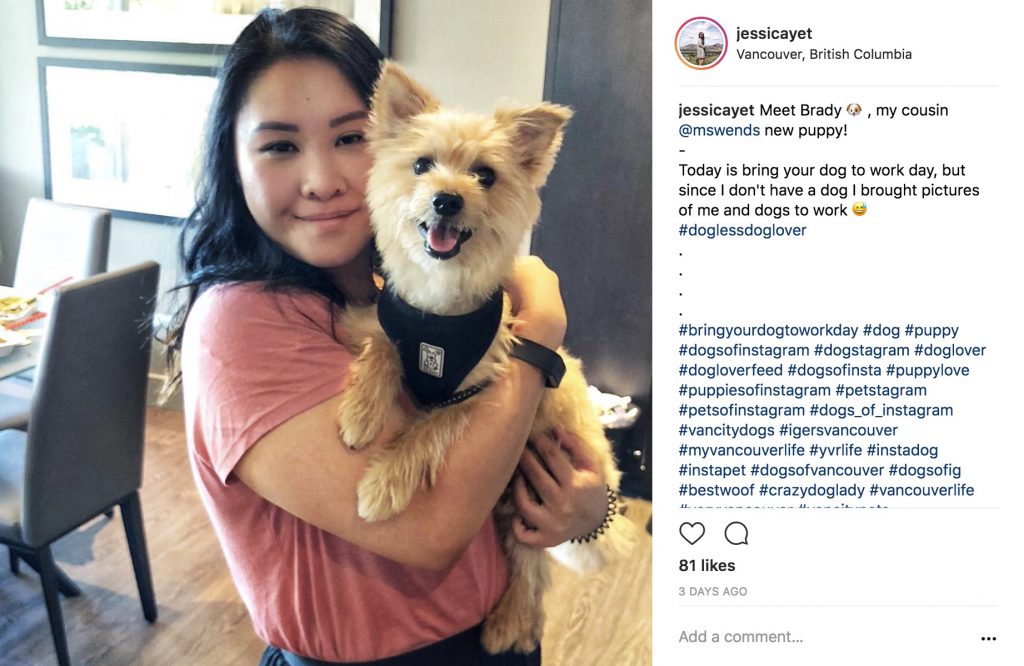 On day 5, he chose a photo of my cousin's dog and I. Coincidentally it was 'bring your dog to work day' that day. I love this picture of Brady and I, and I'm happy he chose it!
Why he chose it: he thought it was a nice picture and it looks like one of his favourite photos of me. He likes how the dog is really happy–as happy as me, and how my fitbit is it the photo (haha).
Photo 6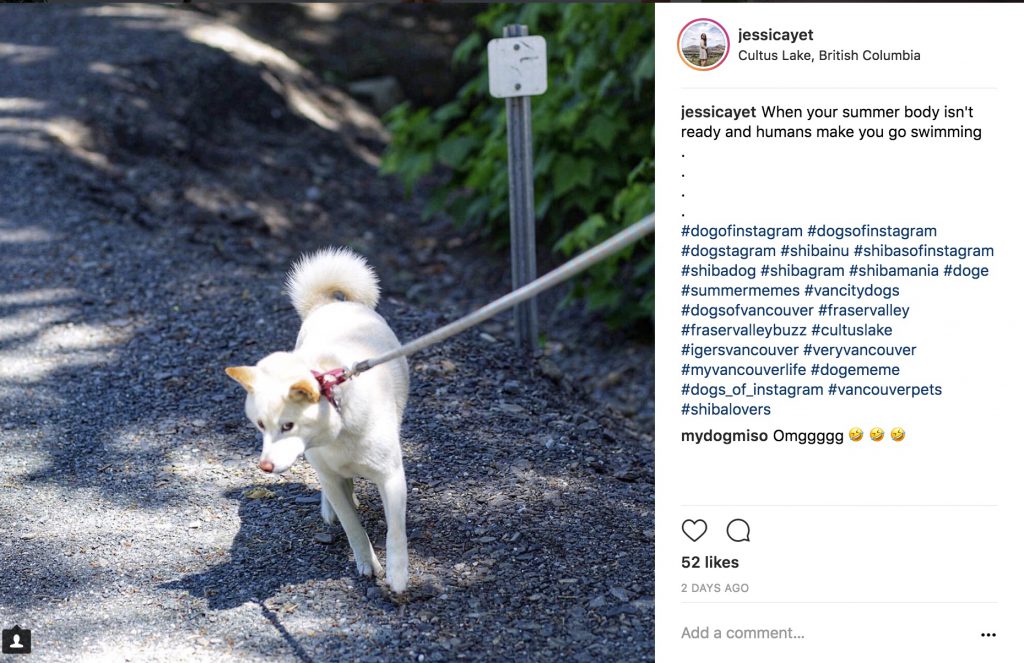 On the last day, he chose this photo of my cousin's dog Miso from our hike at Teapot Hill. This photo was taken when we tried to bring Miso near the water and learned that he absolutely hates water.
Why he chose it: he thought it was the best photo of Miso from our hiking trip that captures his personality (I agree with this). He also thinks that it's slightly funny.
How Well Did The Photos Do?
My Instagram feed is typically a mix of food pictures, pictures of me and landscape/interior pictures. Most of the pictures my boyfriend chose in the 6 days are either pictures of me or pictures with a dog.
According to Instagram metrics, here is how the photos did:
Profile visits: – 13 compared to the week before
Website clicks: +5 compared to the week before
Reach: +244 compared to the week before
Impressions (how many people saw my post): -56 compared to the week before
Followers: during those 6 days I had +28 new followers, but after accounting for the accounts that unfollowed me, Instagram says that I had +7 new followers compared to the week before.
Overall, the pictures did a lot better than I had anticipated.
Final thoughts
I thought this was a fun experiment/activity to do with my boyfriend. I probably wouldn't do it again because it took a lot of time for my boyfriend to go through all my pictures and chose the ones he liked best.
My boyfriend wished that I had posted multiple photos in some of the posts and videos, but overall he was satisfied with his photo choices.
What do you think of the photos he chose? Let me know in the comments!